the car my shop took to Sema, and almost won battle of the builders
11-03-2018, 12:39 AM
the car my shop took to Sema, and almost won battle of the builders
---
i dont think ive ever posted any pics of this car, the shop i work for built this over a number of years. it was ready to go to sema last year, however due to some paperwork issues at the border we were unable to get it there (taking a car from canada to sema is a pile of red tape the past few years). we did some car shows through the year, but it got its real chance to shine this past week at Sema 2018. here are some pics im ripping off from Speed hunters as i dont feel like uploading a pile of pics right now.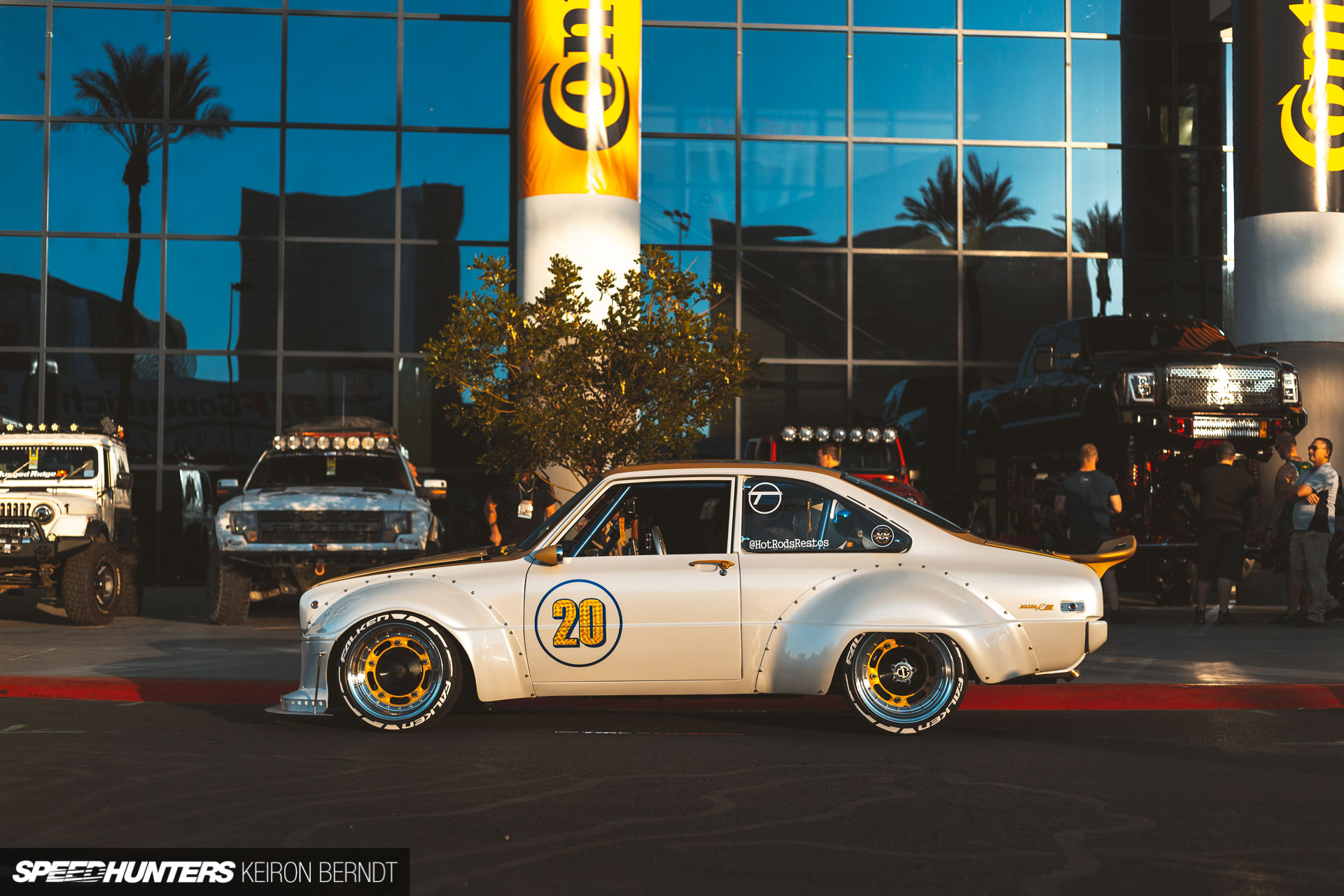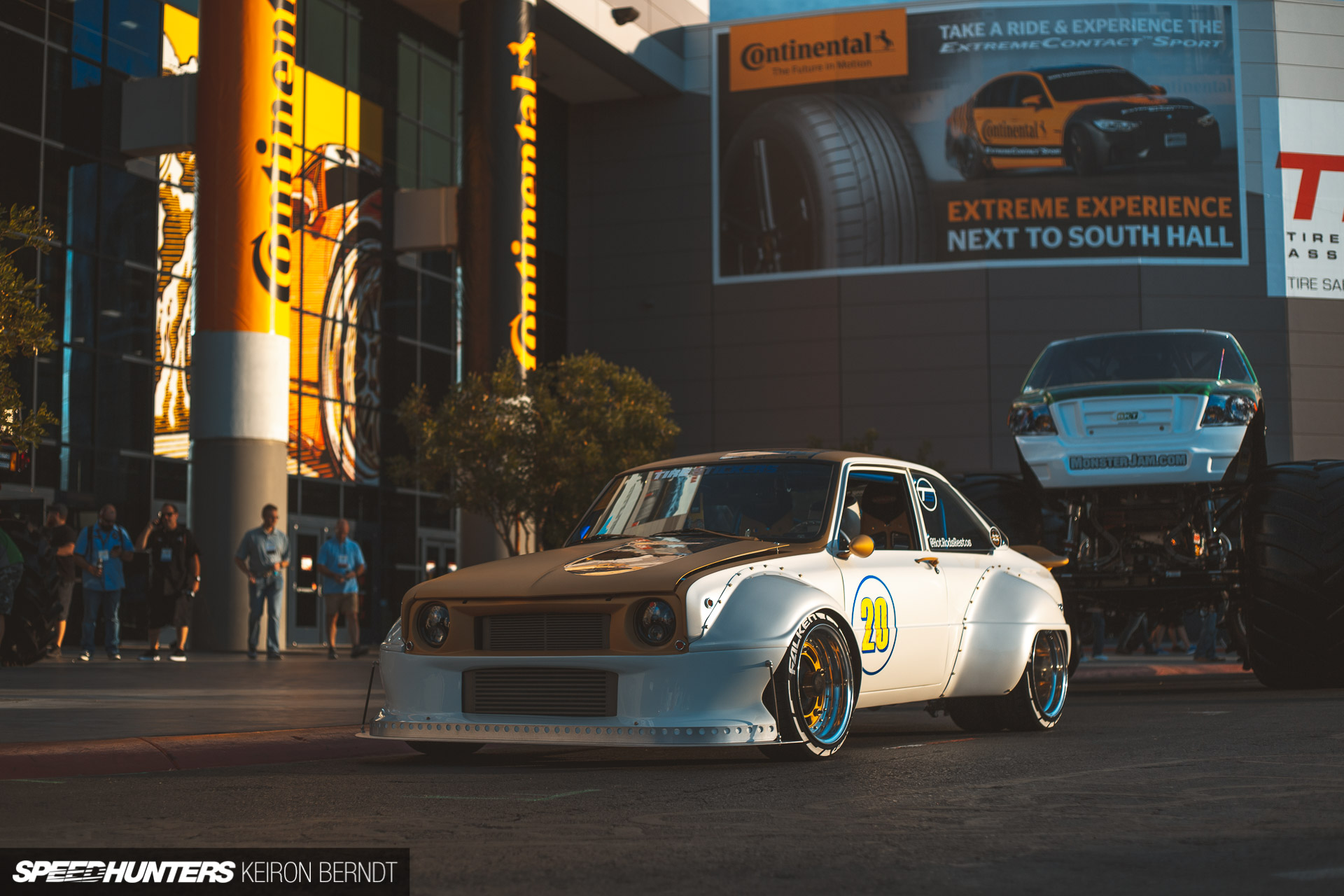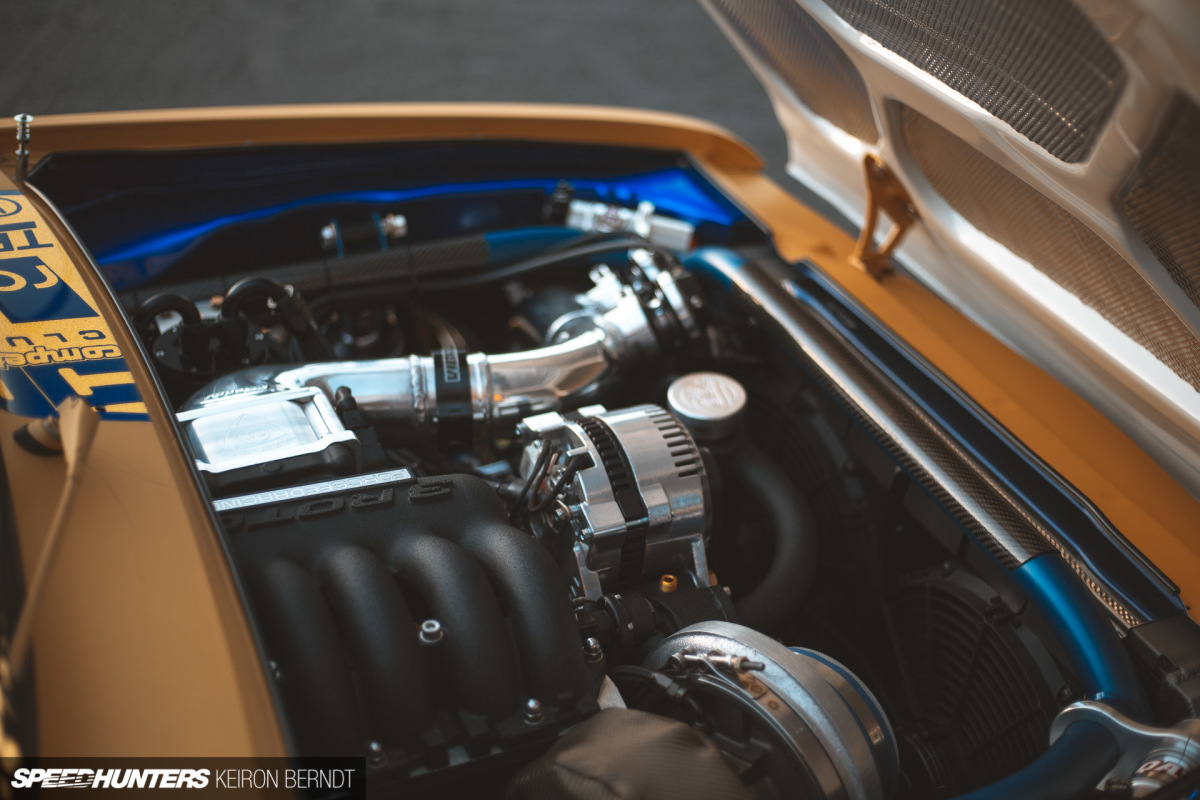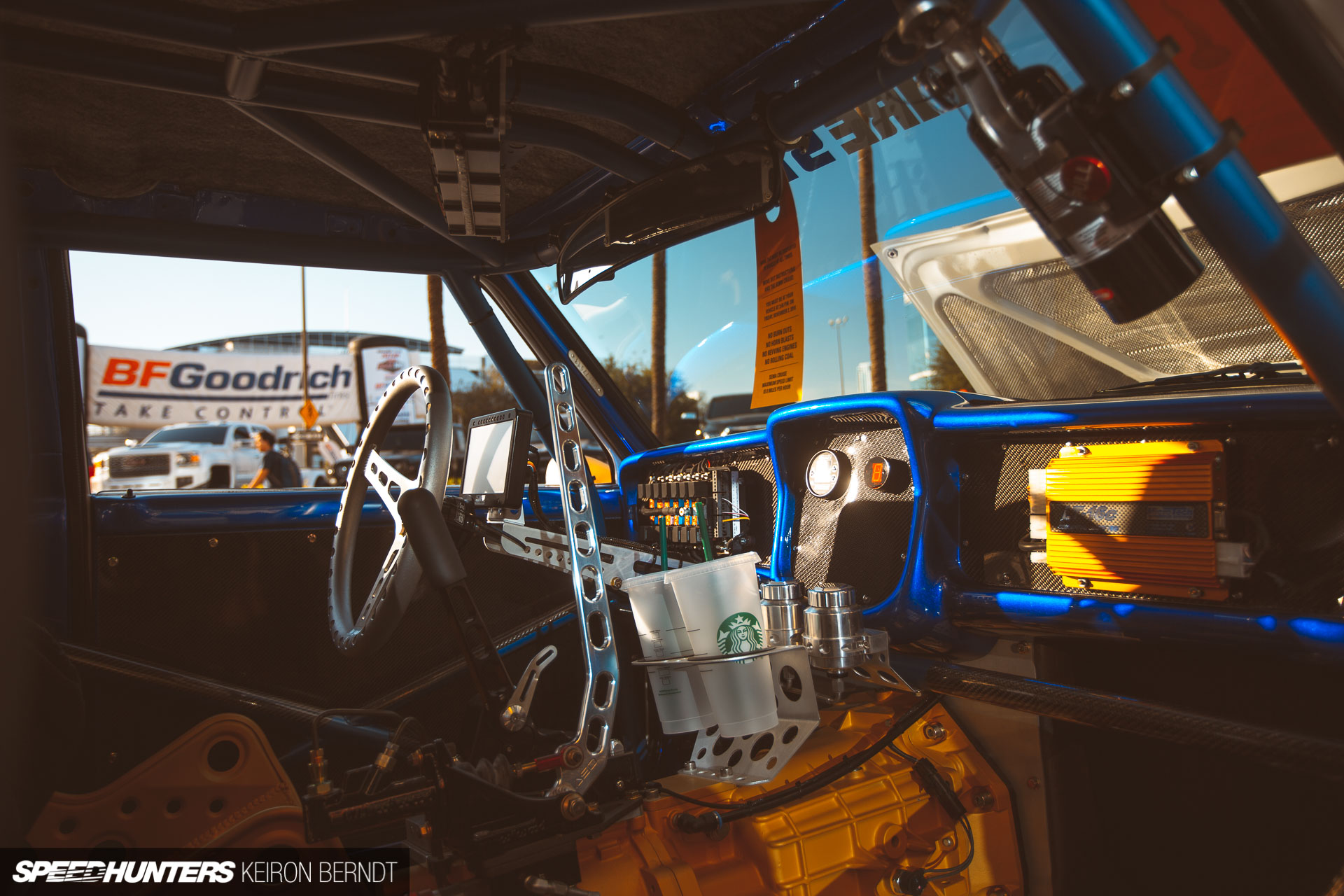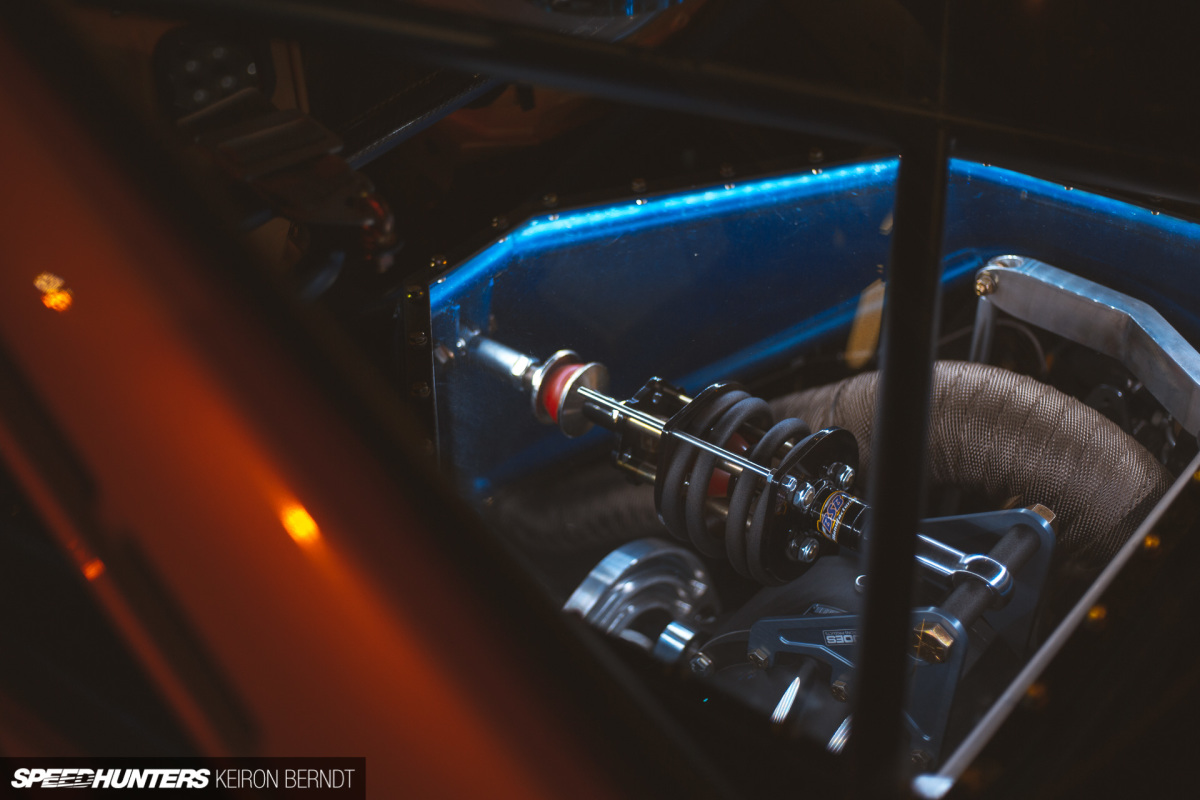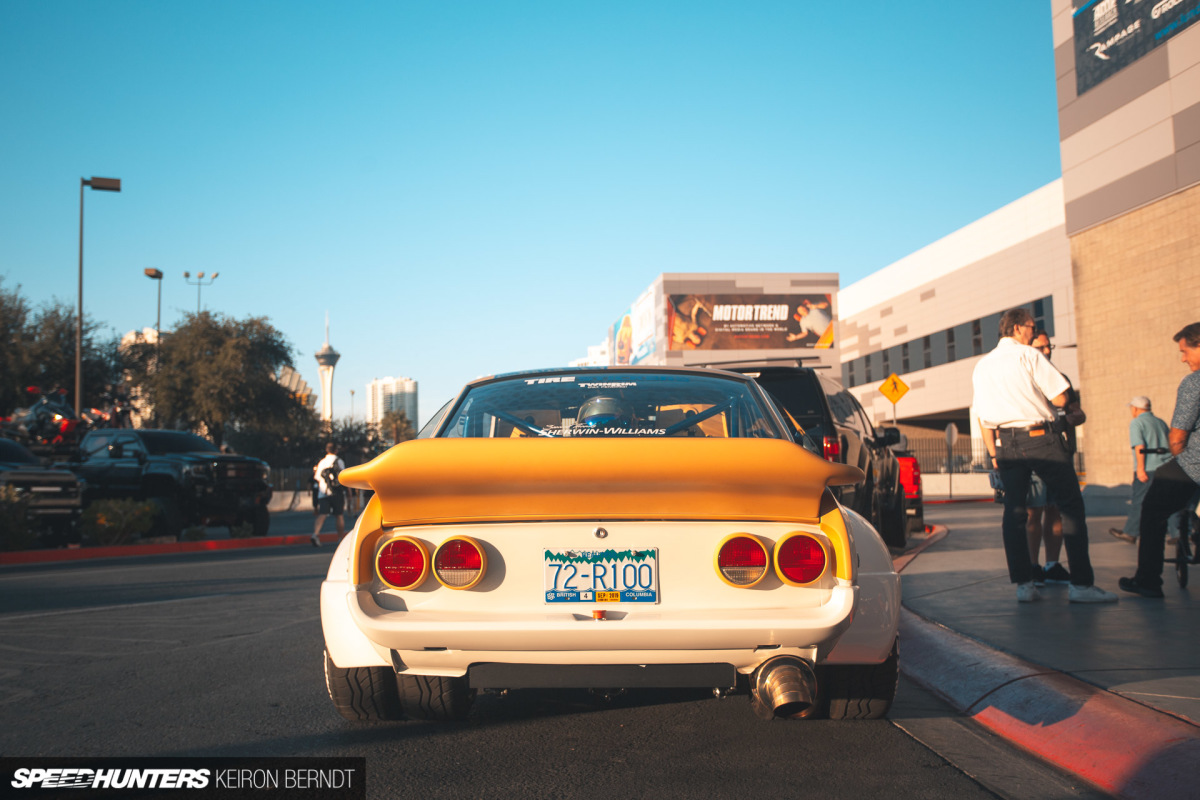 full article from speed hunters with more pics here
A Maple Syrup Flavored, 20B Mazda R100 Dually - Speedhunters
so what is it? its a 1972 mazda r100, the first car available in north america with a rotary engine. i put so much blood sweat and tears into it its not funny, let alone the time researching parts, designing and engineering. there are so many little details in the car most people dont even notice them all. the engine is a mazda 20b 3 rotor, it has a borg warner 72mm sxe turbo, at 18psi (low boost) it makes 700hp at the wheels. it does that through a twin plate clutch and a tremec t56 magnum gearbox thats mounted inside the car. the back is where a lot of wierd stuff is going on, it starts with a winters quick change rear end, the suspension is borrowed from dirt oval cars, it uses a floating 4 link bracket on the rear end called a birdcage, it works similar to a watts link, and the pinion movement is controlled with a pullbar (the spring in the middle). this allows the pinion to rotate up against the spring under acceleration to prevent shocking the tires. the back tires are something that halted the project for about 2 years. the problem with an r100 is its small, the tires on the car are only 22.5" tall, and nobody makes a small diameter tire thats decently wide and street legal. what we ended up doing is making what we call a twin rim, its a single 3 piece wheel, it had beads in the middle and we have 2 tires mounted on each rear wheel. the tires are 205/40r16, and the rear wheels are effectively 16x8x8, or 16x16, depending how you look at it. the chassis is all chromoly. the body is mostly steel, the hood being the only composite panel. the flares were created from scratch to fit the wider track width, the front end, wing and rear bumper were all made from fiberglass as well. the bonkers thing is with the drive and fuel it weighs 2500 lbs
at Sema the car was in the Battle of the builders, on tuesday we got word it was in the top 40, and wednesday it was narrowed down and we made the top 12. it ended up at the top of the sport compact class and in the final 4, but was edged out by detroit speed engineering's 69 camaro. honestly we are amazed and thrilled to have gotten as far as it did in battle of the builders. the car also won a Mothers polish shine award for engineering excellence. unfortunately i wasnt able to be in vegas at sema with the car because of my health, but instagram made me feel like i was there.
its not just a show car either, from the start it was built to be a bad ass time attack car, and we hope to run the optima street car challenge with it. its already seen some track time at autoclub speedway in california to shake it down, it did everything we hoped for a shake down, even "cruised" the banked oval at 147 mph
11-03-2018, 11:04 AM
Senior Member
Join Date: 02-20-09
Location: AZ
Posts: 4,613
That is awesome! That's a ridiculous amount of work! Really original too!
11-03-2018, 12:07 PM
Moderator
Platinum Member
Moderator

Join Date: 05-15-11
Location: Livonia, MI
Posts: 24,583
Thats pretty sweet. Awesome build.
11-03-2018, 07:37 PM
Senior Member
Join Date: 06-12-12
Location: Indiana
Posts: 5,204
Wow, that's nice. Congrats! I like how you picked something obscure to build. Never seen 1 before. That thing has to haul ass.
11-05-2018, 08:30 AM
Senior Member
Join Date: 02-03-16
Location: Kansas
Posts: 4,396
Very awesome. Do you anticipate any unique handling challenges because of the twin tires on the rear?
11-05-2018, 01:25 PM
we havent seen anything odd yet, but like any car its gonna have some quirks to it. when we were building it i figured the car was going to push because of the difference in contact patch between front and rear is so staggeringly different, but its first track day didnt show it being an issue. i think the rear suspension design is going to give us more tuning challenges. when we talked to the company we got some of the parts from we were discussing the viability of it and they said to their knowledge one guy tried it on as asphalt road course car a while back but the thing had way to much rear bite for them and abandoned the whole idea. so far its worked well for us.
11-05-2018, 05:34 PM
Moderator
Platinum Member
Moderator
Join Date: 04-18-14
Location: El Paso, TX
Posts: 14,897
That's awesome man congrats for sure
11-06-2018, 04:15 PM
Super Moderator
Platinum Member
Congrats! we were in the battle of the builders too. Did you see our 35 truck with a Procharger powered LS?
11-06-2018, 07:46 PM
11-06-2018, 10:01 PM
Super Moderator
Platinum Member
nitto asked us to do a private shoot in the desert after the event was over so we drove it out there. wicked killer shots. should see them public soon
11-07-2018, 07:29 PM
thats cool. the r100 got shot for a number of magazines in its spot at sema, we wernt able to do any cool location shoots. sema is now a nightmare to take a canadian car to because its a closed to the public industry trade show. there is mountains of paperwork, federal government exemptions, you name it. we had to list where the car was going and how it was going to be used, etc, and they have to ok it, and if you deviate from that and the us government finds out they can seize the car. so because of that we only had the car get the green light to go to sema, and had planned it to get to an event on saturday in california called seven stock (all rotary car thing), so any magazine shoots outside sema were off the table.
so the sema website is showing battle of the builders tv special airing january 7 at 10pm et/pt. you can check it out here
https://www.semashow.com/botb/
11-07-2018, 07:58 PM
Super Moderator
Platinum Member
damn that sounds like hell
Thread
Thread Starter
Forum
Replies
Last Post
Problems/Service/Maintenance